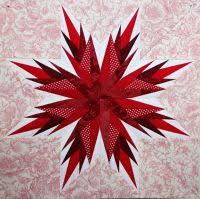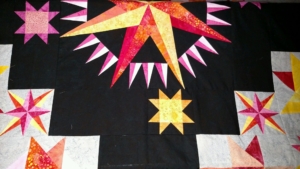 Foundation Paper Piecing, (FPP) commonly called paper piecing, is a method of piecing quilt blocks using a printed paper for stitch lines. Foundation piecing is the technique of sewing fabric to a foundation in order to achieve very precise results. The foundation can be fabric and left in place or paper to be removed later. It allows a quilter to make blocks with small sized pieces or complex angles that would be difficult to cut and piece otherwise and make your process a breeze!
English Paper Piecing is a historical quilting technique that traces back to the 1770s. The earliest hexagon template that quilt researchers have found was made in England in 1770. Hexagons and English Paper Piecing became one of the most popular patterns and styles in England by the early 1800's. Foundation piecing is very old indeed.  At the Virginia Quilt Museum there is a quilt top on exhibit that was dated January 1889 and the papers had been left on.
Fast forward:
FPP's new popularity is due in large part to Lesly-Claire Greenberg. "Guilty as charged," was her answer when asked to confirm a persistent rumor that she is the "mother of modern day foundation piecing." Her development of the foundation/paper piecing technique began as early as 1976 because she couldn't sew log cabin blocks straight. She tried everything possible but she still couldn't do it! So she traced the sewing lines onto a piece of muslin and sewed on the lines. At the same time she was producing a line of patterns and to help her students' complete the designs as close to the original design as possible, she had them trace the patterns onto a muslin foundation and then lay out the fabric patches on top of the patterns. It was just a matter of time before they were turning the paper over and sewing right on the line!
Many people who quilt but are intimidated by the labor-intensive cutting and fitting process that makes a quilt or quilt block.  Paper Piecing takes all the hassle out of cutting and sewing your quilt block.  You can use pre-cut shapes or…use up you're oddly shaped scrap pieces of fabric without extra cutting.
Learning to paper piece is like learning ballroom dancing. You have to perform all your steps in a certain order while dancing backward in high heels and checking your progress in a mirror! 
It sounds harder than it is.  Once you get the hang of it, you'll breeze through it without giving it a second thought – it is a wonderful new technique if you have never tried it. There are superb tutorials on line that demonstrate this technique, you can take a class or learn on your own. I would recommend a class for a beginner, this will save time, money and frustration…mostly frustration… down the road and you will glean great tips.  Every spring here at BellyAcres Twisted Stitchery we have a paper piecing course that takes all the uncertainty and confusion out of this process and you have a great time learning as well we carry all the things you need to complete your first paper piecing project.
The paper you choose will make a difference on whether you enjoy this technique or not. And there are significant price differences on the various options. You can use copy machine paper, vellum, newspaper print, tracing paper, wash away paper, or freezer paper. Pretty much any paper can work, however, those that can be run through a copy machine are best. Some perform better than others. Two of my favorites are 'Papers For Foundation Piecing' by That Patchwork Place' and 'Foundation Paper, and Simple Foundations Translucent Vellum' by Carol Doak.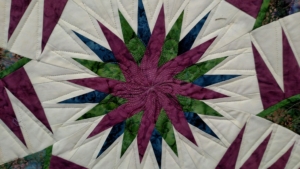 Happy Piecing!
https://twistedstitchery.com/wp-content/uploads/2021/08/images.jpg
199
200
Samni Bell
https://twistedstitchery.com/wp-content/uploads/2021/03/BellyAcresLogo.png
Samni Bell
2021-08-17 12:12:20
2021-08-17 19:12:47
Cuttin' It Up – Paper Piecing