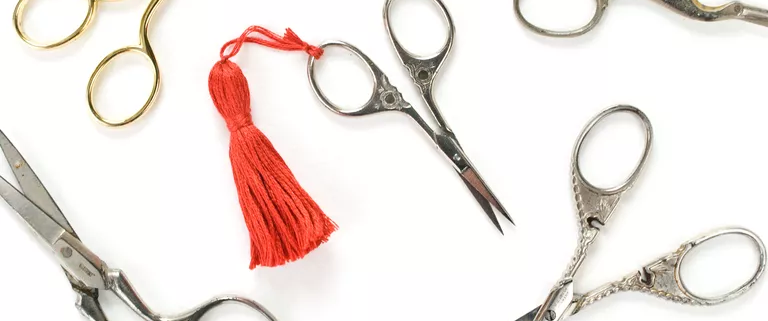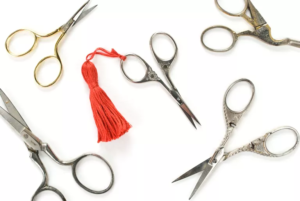 One can never have enough tools – good tools, just ask any man about his shop, his man cave, his reloading room, his…well you get it; men and tools can be never ending nor will they ever have enough.  I happen to agree with men on this one.  Having good tools on hand to do your work can be critical to the outcome of your project.
Take something as minor as scissors – no really.  Scissors have a rich and long history in the world starting out as spring scissors during the Middle Ages, in Mesopotamia 3,000 – 4,000 years ago. These were larger, 'spring scissor' shear type and hard on your hands. In 1761 pivoted scissors were manufactured in large numbers being the first modern-day scissors and they have become even more specialized.
My daughter and family visited us a while back.  Aubri was working on her quilt in my studio while Rob corralled the little ones. Rob sat for a bit and looked, really looked at my tools (oh yeah – I have tools) and made some smart mouthed comment about all my scissors – why so many scissors? And they are all organized! I had to explain what I do with all these 'tools',  I use shears, snips, clippers, paper, leather, silk and cotton scissors for various projects – and now we quilters use an amazing tool – the rotary cutter and we have never looked back. The first rotary cutter was introduced by the Olfa Company in 1979 for garment making and quilters quickly adapted to it. It's a time saver and allows us to cut fast and accurate.
After I explained all this to my son-in-law, Rob, he just sat there, quiet… and shook his head slowly.  I really thought I lost him until a few weeks later Aubri sent a picture of Rob buying several pairs of scissors to begin his collection.
I love my family…..
https://twistedstitchery.com/wp-content/uploads/2021/07/TasselScissorCharm1-57bb74b63df78c87631fc3a5.webp
514
768
Samni Bell
https://twistedstitchery.com/wp-content/uploads/2021/03/BellyAcresLogo.png
Samni Bell
2021-07-22 22:23:42
2021-07-22 22:24:21
Cuttin' it Up – Scisssor's