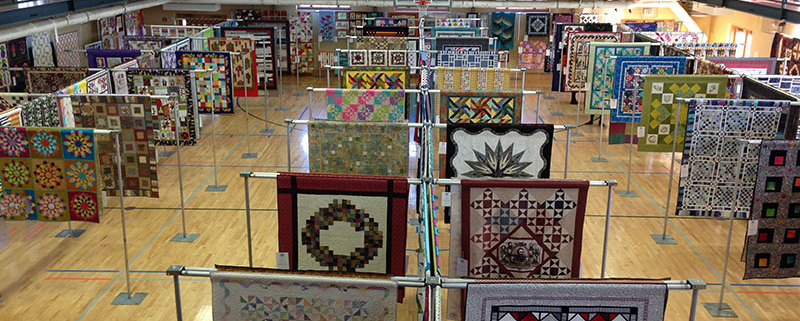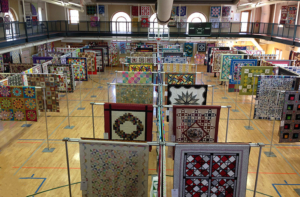 Yep, we quilt, we gather with friends to quilt, embroidery, and work on fiber projects. But why do we go to Quilt Shows?  To get inspired, learn new techniques, meet old friends and make new friends, maybe win prizes and purchase cool new things at show sale prices, a great one stop shopping opportunity.  Quilt Shows bring together communities, especially smaller communities like we have here in Grant County Oregon.  There is such an amazing talent in rural areas that most people just don't get a chance to see and at a local quilt show we get to see these beautiful works of art and most of the time meet the person who created it.
When I see quilts at shows I get inspired especially by quilts that I connect with. You see quilts and designs move me, they speak to me in ways that is hard to express.  They make me want to run home and start a new project…never mind I have three projects in the works and another one on the longarm getting finished but I just don't want to lose the inspiration, the creativity rambling in my head. Trust me – you don't want to be inside my heard, I drive my husband crazy.
At Quilt shows there are classes, workshops and/or demonstrations that will give you plenty of possibilities to learn, you can take the time to learn a new technique, a new skill or try new products that you can only see online. You are in the company of some accomplished quilters that share many of their experiences and trials. Teaching is a passion and I truly believe this should be passed down to our next generations; just another reason to take your family.
I put a lot time in my quilts, well most of them, some are a snap to do and I just want to get through them so I can start another more interesting one.
This year Harney County is featuring not only their quilts but booths so you can purchases beautiful fabrics and products at amazing prices from Burns, Mount Vernon, Prairie City and more!
But above all this I truly enjoy talking with other likeminded quilters – artists – to see folks I haven't seen in a while catch up on them and their families. I love my community!  October 15th-16th is the annual 'Best of the Old West' Harvest Festival & Quilt Show at the Fairgrounds, an event for the whole family.
https://twistedstitchery.com/wp-content/uploads/2021/09/Quilt-Show-Overhead.jpg
526
800
Samni Bell
https://twistedstitchery.com/wp-content/uploads/2021/03/BellyAcresLogo.png
Samni Bell
2021-09-15 12:39:23
2021-09-15 19:47:29
Cuttin' It Up – Quilt Shows