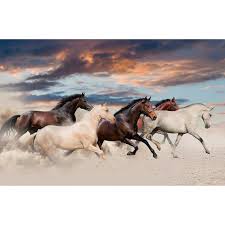 Galloping Horses
I have been teaching quilting and sewing classes for over 30 years, teaching is both inspirational for me and a learning experience. Throughout my life I have never met someone – anyone – that I haven't learned something from. While on my walk about in my early 20's I meet so many wonderful people, some interesting and some scary and after 5 years living everywhere I came home. I learned about life and about myself from everyone I met.  Quilting is no different.  People used to think (myself included) of quilting as something older ladies sit around and do together…Oh no – not anymore! Quilting is a wonderful art form as useful as it is beautiful.
When I first started teaching new quilters I had one student, (don't we all have that one?), Laurie, who just couldn't get the concept of ¼ inch seams, she didn't grasp it, couldn't grasp it, and didn't seem to want to understand that if you aren't exactly ¼" on your seams then you could be off square by ½" to 1 ½" depending on the size of your project.  I had her rip out her seams, I would rip out her seams – over and over until our eyes crossed.  We were close to finishing the class as I approached her to see how she was doing and her quilt was pathetically out of square, corners didn't match, seams weren't connecting…I looked at her, she looked at me and jumped up holding her quilt towards me making her quilt wave up and down exclaiming in a very frustrated voice "On a galloping horse it don't matter"!
At that moment all I could do was belly laugh and realized how we are all so unique, our sense of perfection is unique and our methods are unique.  It changed my teaching experience and attitude completely. She added to my life experience something I will never forget:  Life isn't perfect, just a perfect mess for some and perfect beauty for others.
Thank you Laurie, for teaching me.
https://twistedstitchery.com/wp-content/uploads/2021/07/images.jpg
225
225
Samni Bell
https://twistedstitchery.com/wp-content/uploads/2021/03/BellyAcresLogo.png
Samni Bell
2021-07-15 00:45:57
2021-07-16 01:06:04
Cuttin' it Up: Galloping Horses